F1: Organicfest at O'Brienview Organic Farm
Walk in our pastures to get up close with our Belgian Blue/Black Angus and Wagyu beef cattle & calves. Visit with the Heritage Berkshire pigs, chickens, and ducks. See vegetables in the greenhouse and gardens all grown organically on our family farm. Bring a cooler to stock up on our frozen beef, chicken, and fresh vegetables.
Ongoing: Interact with cattle, and see pigs, poultry and organic vegetables. Learn about organic farming. Buy produce, frozen organic meat.
Location: 688 Country Lane, Cameron; Go north from Highway 35 or south from Glenarm Road onto Country Lane.
Phone: 705-887-3974 Facebook: O'Brienview Organic Farm
F2: Sheepfest at Crow Hill Farm
Visit our registered Corriedale Sheep flock, a dual purpose breed for both meat and wool. Collect fresh eggs from our hen house. Watch a wool spinning demonstration, and try your hand at Drop Spindle Spinning in a hands-on experience. Frozen lamb, honey, maple products & eggs for sale from our farm gate stand. Also available for purchase are Corriedale Handspinning Fleeces. Property is accessible.
Ongoing: Sheep in our pastures, wool spinning, educational displays, egg collecting.
Location: 35 Ranchers Road, Cameron. From Highway 121 at Highway 35 go south on Ranchers Road, or from Hwy 35 go east on Long Beach Road, then north on Ranchers Road.
Mobile: 705-928-0554 www.crowhillcorriedales.ca
F3: Treefest at Rockwood Forest Nurseries
Rockwood Forest Nurseries is a tree nursery and garden centre where a large variety of trees and shrubs, and perennials are grown. Learn how trees are dug with a tree spade. Try your hand at using our tree caliper to measure a tree. Learn about planting and pruning. Talk to our in-house experts about perennial and shrub selection. Take a walk through the tree yard. Visitors will be able to purchase fall mums, holiday gift certificates, and pre-order trees for the Spring of 2023. Take a lunch break at Lola's Canadian Food Truck that will be at our site for the day, serving up hamburgers, poutine and deep fried pickles!
Ongoing: Visit experts at the stations with the tree spade, planting and pruning, tree, bush and perennial plant selection.
Location: 437 Mark Road, Cameron; south off of Glenarm Road or take Killarney Bay Road to Hollow Tree Road to Mark Road.
Phone: 705-374-4700 www.rockwoodforest.com
F4: Pigfest at Three Forks Farm
Take a walking tour of our farm and see our newborn piglets and lambs, happy laying hens, turkeys, sheep and pigs socializing out on pasture and even in the forest. The turkeys and mama pigs are especially social and always put on a show when there is company around! You can also wander through our garden and our greenhouse to see fall veggies growing. Lunch available - enjoy a sausage hot off the grill or pack a cooler and take some delicious pasture raised frozen chicken, lamb or pork cuts home with you. We will also have seasonal vegetables and eggs available for purchase.
Ongoing: Piglets, lambs, pigs, sheep & turkeys available for easy viewing. BBQ sausage on a bun and drinks for sale.
Location: 345 Colony Road, Bobcaygeon; From Pigeon Lake Road south of Bobcaygeon, take Colony Road west.
Phone: 705-931-5338 www.threeforksfarm.ca
F5: Blueberryfest at Wilson's Fresh Blueberries
We have four acres of blueberry bushes planted in the field and thousands more in the nursery. Learn about planting these bushes for yourself as edible landscaping. Tour the blueberry field and nursery. Learn about our efforts to grow sustainability. Frozen blueberries for sale. Blueberry crafts for kids. Enjoy corn on the cob, hot and ready to purchase and eat on site ($).
Ongoing: Walk the blueberry field, crafts for kids, corn on the cob.
Location: 61 Settlement Road, Lindsay; From Pigeon Lake Road go north on Settlement Road at the 'S' curve.
Phone: 705-799-0315 Facebook: Wilson's Fresh Blueberries
F6: Veggiefest at Lunar Rhythm Garden
Tour the 25 acre Pro-Cert certified organic vegetable farm dedicated to growing 75 variety of vegetables in the field and with high tunnels and greenhouses. Cultivation is powered by our four heavy draft horses. Visit the cows and calves, pigs, miniature horses and chickens. Visitors can see the cold storage, greenhouses and vegetable wash station. Visit the kids petting zoo by donation, to sit with bunnies, groom miniature horses, and lead the goats. Guided tours will be available. Fresh organic produce, meat, honey and apples are available for purchase.
Ongoing: Tours of the vegetable fields and high tunnels, visit animals, petting zoo entry by donation ($), purchase farm fresh produce, honey, apples, and frozen meats.
Location: 253 Gray Road, Janetville. From Highway 7A take Yelverton Road south, then go left/east on Gray Road.
Phone: 905-986-9612 www.lunargardens.ca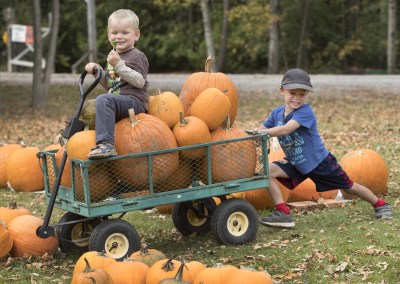 F7: Pumpkinfest at Stellmar Farm
Come and celebrate our 20th anniversary of Pumpkinfest. See giant pumpkins and visit the craft shed at Stellmar Farm, which features: pumpkins, squash, gourds, fall decorations, flower arrangements, decorative corn, wreaths, fall crafts, gourd art, preserves, honey, and tasty pumpkin bread. Try your luck at guessing the weight of the giant pumpkin to win a gift basket. Perhaps even learn the secret behind growing giant pumpkins! Try out our full line of homemade soaps, body butters, and lotions: many products contain our own beeswax and honey! For an additional fee of $5 per person or $20 per family of 4 or more, take a tour through our haunted corn maze. Try your hand at the games around the farm. And finally bring your appetite for our hot dog lunch special. Washrooms available.

Ongoing: Farmfest participants can guess the weight of a giant pumpkin, walk the corn maze ($), vote for the best monster in the maze, purchase farm products, hot dogs and crafts.
Location: 136 Sandbar Road, Little Britain; From east of Valentia on Elm Tree Road, take Sandbar Road south.
Phone: 705-786-0431 www.stellmarfarm.com
F8: Horsefest at Valentia Equestrian Centre
Visit the animals - horses of all sizes, goats, chickens, Mary the alpaca, Arnold the pig, and Herman the turkey. In addition to all the animals, bigger than life-size Marshall from Paw Patrol will be attending. Walk our trails throughout the property. We will be providing pony rides at an additional fee of $5 and will be implementing COVID safety procedures for the ride. Because we will have to sanitize the tack after each rider we ask that you be patient as it may take longer than usual. The animals like stale bread or apple slices which are acceptable to bring along with you. *Please notify volunteers if you have brought food for the animals.
Ongoing: Visit horses and other animals, pony rides ($5), children's crafts, walk to a Paw Patrol themed tree maze, complete the scavenger hunt to win a prize!
Location: 188 Valentia Road, Little Britain; From Little Britain Road take Valentia Road south to just north of Valentia.
Phone: 705-786-2226 www.valentiaequestrian.com
F9: Woolfest at Mariposa Woolen Mill
Visit a working wool mill and traditional farm to learn about the process of making wool yarn, and batting for felting. Walk through our mill to see the wool fibres at different stages while learning of local wool history. See sheep and a loveable pig in the front pasture. Our farm market shop features farm-raised meats, fresh produce, baked goods, and goat cheeses as well as our wool products. Take a walk through the pumpkin patch and corn maze for an additional entry fee of $8.50. Pumpkins are sold separately. Kids crafts available. If you're looking for a tasty treat, we'll have a little something for everyone offered from our food truck. Property is accessible.
Ongoing: See wool being processed into yarn, cording, or batting. Kids crafts. Additional cost for access to pumpkin patch activities and corn maze. Animals in pasture, and farm market store. We will have pumpkins available for purchase.
Location: 1275 Hwy 7, Oakwood; Just east of Oakwood.
705-928-5670 www.mariposawoolenmill.ca or www.mariposafarmmarket.ca
F10 Dairyfest at Vosbrae Farm
Visit our active working dairy farm milking 180 Holstein cows. You will see the dairy cow herd in their comfortable free stall barn with a large rotary milking parlour. See the latest addition of an on-farm cheese processing facility, making cheese directly from the cows we milk. Purchase products such as Cheese, Beef, and Chicken from our market. Washrooms available (not accessible). Ongoing: View dairy barns with cows and calves, rotary milking parlour, cheese room, purchase farm produced cheese, beef and chicken.
Location: 140 Skyline Road, Manilla; From Highway 7 go north on Kawartha Lakes Road 46 and take Skyline Road west.
Phone: 705-357-3150 www.vosbrae.com
M1: Lindsay Farmers' Market
Start your farmfest Weekend at the Farmer's Market in Lindsay. Come celebrate the harvest by enjoying a Saturday morning tradition in downtown Lindsay, bringing you a large array of fresh food products & so much more.
Hours: Saturday, from 7 am - 1 pm
On Victoria Avenue, north of Kent St.
705-878-1392 www.lindsayfarmersmarket.com
M2: Kinmount Farmers' Market
Come to Kinmount and try our fresh baked pies, breads, cookies, sauces, wood crafts and other favourites. Locally grown farm fresh fruit, vegetables, meat, honey, garlic, pickles and preserves.
Hours: Saturdays, 9 am – 2 pm
Location: Austin Sawmill Heritage Park, Kinmount
Phone: 416-986-7216 www.kinmountfarmersmarket.ca
A1: Kawartha Dairy in Bobcaygeon
Enjoy fresh Kawartha Dairy milk and ice cream from local dairy farms.
Location: 91 Prince Street, Bobcaygeon
1-877-4KD-MILK (1-877-453-6455) www.kawarthadairy.com
A2: Kawartha Dairy in Lindsay
Enjoy fresh Kawartha Dairy milk and ice cream from local dairy farms.
Location: Lindsay Dairy Barn, 71 Russell Street, Lindsay
705-324-0352 www.kawarthadairy.com