Kawartha Farmfest is an annual, one-day, self-guided driving tour of farms and rural attractions throughout Kawartha Lakes. Your $5-admission includes a map and guide to all Farmfest sites, open between 10am and 4pm.
Save the date: Saturday, September 30, 2017
Admission and registration
Farmfest admission costs $5 for adults but is free for kids under the age of 14. Register to receive an admission sticker and program passport containing a detailed map and descriptions of each participating site.
Online registration coming soon.
Buy your admission sticker in advance at:
Kawartha Lakes Municipal Service Centres in Omemee, Bobcaygeon and Lindsay
Kawartha Lakes Library branches in Fenelon Falls, Bobcaygeon, Lindsay and Bethany
Lindsay Farmers' Market on Victoria Avenue between Kent and Peel streets, Saturdays between 7am and 1pm
Bobcaygeon Farmers' Market at the fairgrounds on Mansfield Street, Saturdays between 8am and 1pm
Fenelon Falls Farmers' Market at the corner of Bond and John streets, Fridays between 1pm and 6pm
Kawartha Dairy stores at 71 Russell St., Lindsay and 91 Prince St., Bobcaygeon
The Kawartha Store at 30 Colborne St., Fenelon Falls
Bobcaygeon Chamber of Commerce at 21 Canal St., Bobcaygeon
Fenelon Falls Chamber of Commerce at 15 Oak St., Fenelon Falls
You can also purchase your admission sticker at all Kawartha Farmfest sites on event day.
Farm site descriptions
F1: Organicfest at O'Brienview Organic Farm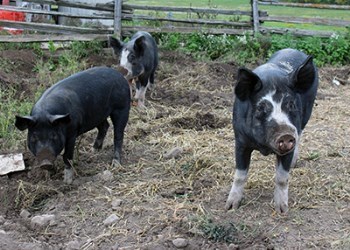 Stop in to visit Heritage Berkshire pigs, Black Angus and Belgian Blue cows, chickens, ducks and turkeys, all raised organically on the family farm.
Bring a cooler to buy some meat from our on-farm freezers. Beef, pork, chicken and vegetables are available for you to buy. Order your turkey for Thanksgiving and stay for lunch, hamburgers or sausage on a bun.
688 Country Lane, Cameron
705-887-3974
Directions: On Hwy. 35 south of Hwy 121 junction, go west at Powles Rd., turn north onto Country Lane. From the north, take Glenarm Rd. to Country Lane (at the Hydro yard). Turn south about 4 km. Farm is on east side #688).
F2: Sheepfest at Crow Hill Farm
The sheep at Crow Hill Farm are registered Corriedales, bred for meat and wool.
Collect eggs from the hen house, see the sheep with their lambs and watch a traditional hand-spinning demonstration before trying it for yourself. While you're visiting, see the honeybee yard and honey room and buy frozen lamb, honey and eggs from the farmgate stand.
35 Ranchers Rd., Cameron
705-359-1376
Directions: On Hwy 35 north of Lindsay, turn east on Hwy 34 - Long Beach Road. Turn left on the 2nd road on the left at the S curves, Ranchers Road. 1st farm on the left.
F3: Dairyfest at Thursthill Farms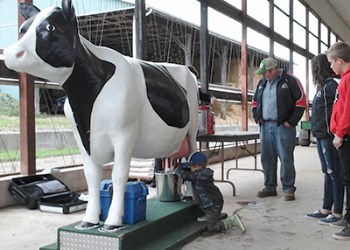 Visit an active, working dairy farm milking 85 Holstein cows.
The Thurstons have a large family farm with approximately 1200 acres of cropland. You will see the dairy cow herd in their comfortable free-stall barn and the calf barn will be open so you can see the young calves. The cows use the new self-serve robotic milking machine throughout the day and the children will have the chance to meet Maple for a hands-on milking experience.
268 King's Wharf Rd., Lindsay
705-793-9135
Directions: From Sturgeon Road between Omemee and Dunsford take King's Wharf Road to the west. Second farm on the south side.
F4: Funfest at Greenshire Eco Farms
This is your chance to see how the people of Greenshire Eco Farms are growing a greater good.
Throughout the day, operators of Greenshire Eco Farms will demonstrate regenerative farming, a method of farming that heals the earth and produces nutrient-dense food. Take what you learn and carry it into your family's life to enrich your environment.
1563 Pigeon Lake Rd., Lindsay
705-879-4207
Directions: About halfway between Lindsay & Bobcaygeon; 1 km east of Hwy 10.
F5: Horsefest at Valentia Equine Retraining Centre
Valentia Equine Retraining Centre, a registered not-for-profit, gives a second chance to retired race horses who are unwanted or injured.
Go on a walking tour and see the horses in their paddocks. For children, there is a scavenger hunt maze, crafts, a horse show and other activities. Pony rides, hot dogs, hamburgers and drinks will be available for an additional fee. Most exhibits are wheelchair accessible and a public washroom is available.
188 Valentia Rd., Little Britain
705-328-4592 or 705-786-2226
Directions: From the four corners of Little Britain travel east, then from Little Britain Road turn south onto Valentia Road. Travel south past the Ramsey Road intersection, on east side of Valentia Road.
F6: Pumpkinfest at Stellmar Farm
See giant pumpkins and visit the craft shed at Stellmar Farm, which features a wide selection of pumpkins, squash, gourds, dried flowers, wreaths, fall crafts, gourd art, decorative corn, preserves and tasty pumpkin bread.
Try your hand at pumpkin painting and guessing the weight of a giant pumpkin. Enjoy samples of pumpkin bread and warm cider. Perhaps even learn the secret behind growing the giant pumpkins!
This site is wheelchair accessible with a washroom available.
136 Sandbar Rd., Little Britain (east of Valentia)
705-786-0431
F7: Alpacafest at Salem Alpacas
Alpacafest has something for the whole family to enjoy. There will be guided visits with the alpacas, a master spinner giving fibre demonstrations, educational displays, videos, kids' colouring, photo opportunities and more.
Learn more about this exotic animal through audio/video displays about birthing, shearing and alpacas at play. For an additional $5, participate in a 30-minute felting craft workshop between 10am and 3pm.
363 Salem Rd., Manilla
705-786-2023
Directions: Travel west on Salem Road off Little Britain Road at the "S" curves.
F8: Applefest at Dromoland Orchard and Stables
With organic apple orchards, apple products, 'enchanted fairy forest' horseback riding, nature and sanctuary and scenic photography sites, Dromoland is a wonderful experience for families.
Meet baby chicks and hens, see sheep wool spinning demonstrations at 11am and 2pm, and participate in old-fashioned apple cider making. For lunch, have some barbecued Oktoberfest sausage and corn on the cob and enjoy music in the orchard between 11:30am and 2pm.
At 1:30pm there will be a presentation about the climate, what's happening and chit chat by Dave Devall and Steve Jacobs, meterologists and weathermen, formerly with CTV.
Purchase organic chicken, apple cider, apple products and more.
598 Elm Tree Rd., Little Britain
1-800-979-2319
Directions: From Hwy 7 take Elm Tree Road south past Little Britain Road. Or from Stellmar Farm and Valentia Equestrian, take Elm Tree Rd, E.
F9: Veggiefest at Lunar Rhythm Gardens
Visit the five-acre vegetable farm dedicated to growing 75 varieties of vegetables with high tunnels and greenhouses, powered by four heavy draft horses.
Find out about the Community Shared Agriculture vegetable garden program and visit the beef cow/calf operation, pigs, miniature horses, meat chickens and laying hens. There will be farm tours of the garden and animals and visitors can see the new cold storage building with a greenhouse and vegetable wash station.
Fresh organic produce is available for purchase. Portable washroom facilities are available.
253 Gray Rd., Janetville
905-986-9612
Directions: From Hwy 7A west of Hwy 35, take Century Farm Road south to Gray Road & turn right.
Farmers' Market site descriptions
M1: Lindsay Farmers' Market
Start your Farmfest weekend at the Farmers' Market in Lindsay. Celebrate the harvest by enjoying a Saturday morning tradition in downtown Lindsay, bringing you a large array of fresh food products and so much more.
The Lindsay Farmers' Market runs Saturday from 7am to 1pm on Victoria Avenue north of Kent Street.
705-878-1392
Countryside attraction site descriptions
A1: Kawartha Dairy, Bobcaygeon
The Kawartha Dairy Company, a 100% Canadian family-owned and operated dairy based in Bobcaygeon since 1937, produces a wide range of milk products and, of course, their famous ice cream. Stop by the original Bobcaygeon location for a quick dairy snack while on the Farmfest tour. More than 45 flavours of ice cream, sherbert and frozen yogurt are available.
Take a picture of your group with the almost life-size cow at 91 Prince St., Bobcaygeon.
877-453-6455
A2: Kawartha Dairy Barn, Lindsay
Stop by the Lindsay location of Kawartha Dairy for a quick snack while on the Farmfest tour. More than 45 flavours of ice cream, sherbert and frozen yogurt are available.
71 Russell St., Lindsay
705-324-0352
A3: The Kawartha Store, Fenelon Falls
Visit The Kawartha Store, an exciting new shop featuring Kawartha Country Wines, gourmet foods, gifts and clothing designed and made in Canada. Try a variety of samples of unique, award-winning gourmet products.
30 Colborne St., Fenelon Falls
705-887-9888
A4: KL Community Sale Barn
Check out one of the busiest livestock auctions in the province with a new country kitchen restaurant and large farmers' market with everything from fresh, local fruit, vegetables and maple syrup to clothing, woodwork, furniture and farm supplies.
Three live auctions start at 9am and continue all day until active sale rings finish selling their livestock and farm items.
580 Woodville Rd., Woodville
705-439-4444
Sponsors
Kawartha Farmfest would not be possible without the tremendous effort put forth by our volunteer hosts.
Special thanks to Kawartha Lakes Communications, Advertising and Marketing and Economic Development divisions for their support.
We are indebted to all our partners.
Thank you!
Related events
During your Kawartha Farmfest tour you may consider taking in these events or others which can be found in our calendar:
September 28 - 30, 2017 - Bobcaygeon Fall Fair
Hours of operation: Saturday, from 8am - 5pm.
Location: 47 Mansfield Street, Bobcaygeon
Telephone: 705-738-3445
Visit the Bobcaygeon Fair website
September 30, 2017 - Kinmount Farmers' Market
Hours of operation: Saturday, from 9am - 2pm.
Location: Austin Sawmill Heritage Park
Telephone: 705-488-2612
Visit the Kinmount Farmers Market website
September 30 to October 1, 2017 - Victoria County Studio Tour
Hours of operation: Saturday & Sunday, 10am - 5pm.
Location: throughout Kawartha Lakes
Telephone: 705-887-2229