What's new?
Starting September 2020, GFL
will manage Kawartha Lakes' Material Recycling
Facility (MRF). A MRF is a specialized plant that receives,
separates and prepares recyclable materials
for marketing to end-user manufacturers
What does this mean?
This August, we will slowly be phasing out the acceptance of the following items for recycling collection:
Coffee Cups (example: Tim Hortons coffee cups) are no longer recyclable and shall be disposed of as waste. Lids and sleeves can still be recycled.
Styrofoam (meat trays, packing, etc.) is no longer recyclable and shall be disposed of as waste
Aerosol cans (empty) are no longer recyclable and shall be disposed of as household hazardous waste at either the Lindsay Ops or Fenelon landfills
Starting the week of September 8, these items will be left curbside if they are improperly disposed of.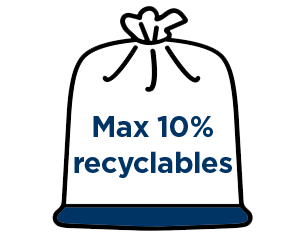 Recycle Right!
Another change to curbside waste and recycling is that starting September, residents will only be allowed up to a maximum of 10% of recyclable materials in each clear bag of waste, instead of the previous limit of 20%.

This August, any clear bags containing greater than 10% recyclables will be tagged with a sticker. Beginning the week of September 8, clear bags containing greater than 10% recyclables will be left behind at the curb.
Frequently Asked Questions:

Why are coffee cups no longer accepted in the recycling?
Coffee cups are mostly comprised of paper, but they're coated in a plastic layer that allow them to hold liquids without leaking. Unfortunately, the plastic component makes it so they cannot be broken down into a pulp and turned into recycled paper.
Kawartha Lakes' was among the small percentage of municipalities that were able to find an end market for them, but with a new Material Recovery Facility (MRF) contract starting this September, so are changes in what materials can be accepted.
Why is styrofoam no longer accepted in the recycling?
Styrofoam is recyclable if there were no other contaminants. The issue is that it is easily contaminated with other items such as food waste and other recyclable items. It also poses an issue as it breaks down into small pieces that affect the integrity of other items that are recyclable.
Kawartha Lakes' has continued to accept Styrofoam in the recycling stream in the hopes that recycling end markets would turn around. Unfortunately, this has not happened and if it was continued to be in the recycling stream, there would be financial penalties to the City.
Why are aerosol cans no longer accepted in the recycling?
As aerosol cans are held under pressure, they have the potential to explode during transport and when they are processed at the Material Recovery Facility (MRF). This poses a health concern for staff handling the materials therefore it is essential that they are disposed of as household hazardous waste (HHW) at either the Fenelon or Lindsay Ops landfills.
Why the reduction of allowed recyclables from 20% to 10%?
This was a decision made by council as part of the approval of the Integrated Waste Management Strategy Update. Stay tuned for more information in the upcoming months on other Waste Strategy Initiatives which will help Kawartha Lakes reach our diversion goal of 70% by 2048.
What else is new with Kawartha Lakes Waste and Recycling?
Tire Recycling

As per new regulations the City will no longer be accepting tires at landfill sites as of July 1, 2020. Tire producers are responsible for recycling tires. There are many collection sites within Kawartha Lakes which must accept tires for recycling, such as garages and vendors. There is a search tool on Resource Productivity and Recovery Authority's (RPRA) website to assist you with finding a close and convenient collection site. For more information, visit their website and type in your postal code to find a collection site near you, or call them at toll free line: 1-833-600-0530.

Construction and Demolition Waste Recycling
Starting June 1, the City implemented a mixed Construction and Demolition waste diversion program for residents at the Lindsay Ops landfill site. All collected material will be recycled to help reduce waste and extend the life of the landfill. Regular tipping fees will apply. Items accepted may include:
Painted/unpainted wood
Wood containing nails and hardware (knobs and hinges)
Shingles
Concrete and rubble
Drywall (gypsum)
Additional Diversion Programs
Did you know that we have a variety of waste and recycling programs in place to help divert materials from ending up in our landfills? Get involved today and take advantage of our programs in place. Learn more by visiting our Diversion Programs webpage.
Electronics
Scrap metals
Leaf and yard
Household hazardous waste/paints
Mattresses
Reuse materials
Online payment options for bag tags/recycling bins
Stay tuned for more information, details will be coming soon.