Last updated: November 15, 2023

About the water meter replacement program

The City of Kawartha Lakes is in the midst of a multi-year water meter replacement program that aims to upgrade all aged water meters identified by the City. There is no cost to homeowners or occupants to participate in this project. The installations will be completed by the City's contractor Wamco.
Please note that this is a mandatory program. Having a working water meter is required under the City's Water Meter By-law 2021-162.
Follow
us on
Facebook
for updates.
Program status

Area

Zone

Total Meters
Replaced

Start
End

Status

Bobcaygeon
Zone 1
Zone 2
805
June 2023
Early 2024
In progress
Fenelon Falls
Zone 3
363
August 2023
Early 2024
In progress
Lindsay North
Zone 4
~
Early 2024
To be determined
Not started
Locate your zone using the interactive map below
Book your appointment here
Appointments are available Monday to Friday from 9am to 5pm and Saturday from 9am to 3pm, excluding statutory holidays. It is important that you schedule your appointment within one week of receiving the first notice, so that the program can proceed on time.
When installers are in your area, you will receive a brochure and notice letter. Make sure to book an appointment that corresponds to the 'zone' number noted in the top right hand corner of the letter.
Book an appointment by calling Wamco at 1-833-926-2626 or choose the appropriate zone button below to book online.
Bobcaygeon - Zone 1 and Zone 2
Fenelon Falls - Zone 3
Once your appointment is booked, you will receive an email confirmation and be reminded by email and/or text message one day before your scheduled appointment if an email address or cell phone number was provided.
If you are no longer available for your appointment, please contact Wamco at 1-833-926-2626 to re-schedule your appointment as soon as possible.
Note: If you have not received a letter, your meter has not been identified as requiring replacement. Please wait until you receive a notice letter before booking an appointment. Installers are working in specific areas and are not able to deviate from the scheduled routes.
Benefits of the program
This Water Meter Replacement Program is necessary to ensure improved wireless two-way communication between your water meter and the municipality's water metering infrastructure. Other benefits of this project include:


Improved water meter reading accuracy. If the resident's water meter was previously over registering or under-registering, the new water meter will now measure the water usage accurately.
Ability for the City to conduct remote water meter readings. The new meter technology will communicate wirelessly with the City and eliminate the need for a technician to enter your property to manually read your meter.
The future ability to identify leaks within the system before they become a larger issue.
The future ability for residents to track their water usage through an online portal.
How to prepare for your appointment
If you are the tenant: Please advise the property owner that the water meter requires replacement. They are required to provide easy access to the City owned water meter for City-authorized staff or contractors to complete the installation of a new meter.

A responsible adult (18 years or older) must be available for the full duration of the appointment.

Make sure the area where your water meter is located is clear and easily accessible.

Water meters are located inside your home near the main shut-off valve where the water service lines enter your home – usually in the basement.

The new water meter will require an area about 14" wide x 14" high x 6" deep. This will allow space for the new water meter and any necessary plumbing fittings.
Important: If your water meter is located behind drywall or a panel, the Wamco installer will cut a small section to gain access to the main shut-off valve. The water meter may require maintenance in the future, therefore the hole cannot be permanently covered.
What to expect during your appointment
The appointment will take approximately 30 to 60 minutes to complete. During this time, the Wamco installer will:
Turn off your water before the work begins.
Remove the existing water meter and install a new water meter inside the home.
Install an outside water meter reader (radio read box) over the existing reader, usually located outside your home. If an outside water meter reader does not exist, Wamco will install one for you. This will be done by running a wire from the inside water meter to the outside water meter reader.
When the work is done, the technician will turn the water back on.
How to identify a Wamco installer
Wamco installers will wear an identification tag with Kawartha Lakes and Wamco logos, be in a Wamco uniform, and have identification on their vehicle with both Wamco and the City of Kawartha Lakes logos.

Important: Installers will not show up at your door without a scheduled appointment. Should you wish to confirm the identification of a Wamco installer, please contact Wamco at 1-833-926-2626.
Note: Wamco installers have received the proper training and certification necessary to perform water meter installations within the Province of Ontario.
Having issues after your appointment?
If you have any questions or concerns, please contact the Wamco call center at 1-833-926-2626. In the event you are unable to reach their team immediately, kindly leave a message including your name, property address, contact details, and the reason for your call. Wamco will promptly respond to your inquiry.
Wamco staff are trained and qualified to answer all your questions related to the program and your appointment.
For weekends or after hour emergencies, please contact 1-877-885-7337.
About your new water meter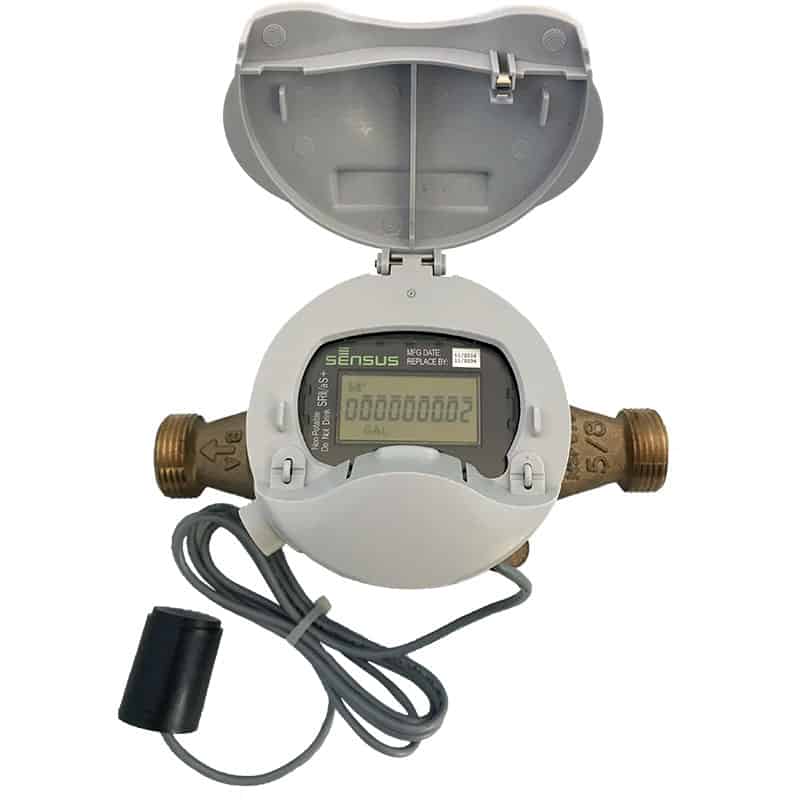 SR II water meter

The SR II water meters have an oscillating piston within a magnetic-drive, positive-displacement design. This feature provides exceptional sensitivity when measuring a diverse range of flows, making it particularly well-suited for various residential applications. The SR II is notable for their precision, dependability, and sustainability.

To learn more, visit;
Do you hear a noise coming from your new water meter?
It is common for an SR II water meter, like many other types of water meters, to make noise when water is flowing through it. This noise is typically caused by the movement of internal components designed to measure the amount of water going through.
While some level of noise is normal, if you encounter unusually loud or persistent noises, please reach out to Wamco at 1-833-926-2626 for a thorough inspection of your water meter.
What moving parts are in the SR II water meter?

Magnetic-Drive: The term "magnetic-drive" indicates the method used to drive or control the movement of the internal components of the water meter. In this case, a magnetic mechanism is used to regulate the motion of the meter's components, such as the oscillating piston.

Positive-Displacement: Positive-displacement meters are a type of water meter that measures water flow by capturing a fixed amount of water and then transferring it to the measurement chamber. In this context, the term "positive displacement" implies that the meter uses a method where the volume of water is precisely measured by displacing a known volume of water with each cycle of the meter's internal mechanism.

Oscillating Piston: The meter has an oscillating piston as part of its internal mechanism. The piston moves back and forth in response to the flow of water, and this movement is used to measure the volume of water passing through the meter. The oscillating piston design allows for accurate measurement, especially at low flow rates.
Frequently Asked Questions

Do I have to pay for the new meter?
No. There is no charge to the property owner or occupant for the replacement of the water meter.
How will I know when work is being done in my area?
Meter replacements are being completed on a zone-by-zone basis. When technicians are in your area, you will receive a brochure and notice in the mail with more detailed information, including instructions on how to book an appointment.
Why am I getting a new water meter and my neighbour isn't?
The typical life of a meter is 15 to 20 years. Like most mechanical devices, they eventually need to be replaced. In other cases, municipalities can decide that it is time to upgrade the meter so that it is compatible with the latest meter reading technology.
In either of the above cases, the City has carefully selected which meters need to be replaced or upgraded. Not all homes/businesses in your area need to have their meters replaced.
When will my area be added to the interactive map?
The City has added all the areas targeted for the program. These areas will give you a preview of what's to come and their program status. We hope that the map will provide you with a better understanding of our future plans. We encourage you to explore the map and familiarize yourself with the areas that will be included in the water meter replacement program.
Will an installer show up to my house without an appointment?
Installers will not show up at your door without a scheduled appointment. You can also ask to see the installer's identification, or call 1-833-926-2626 to confirm an installer's identity.
If you receive a call, or someone arrives at your door and you are unsure, do not book the appointment or let the person inside your home. Call our Service Centre at 1-833-926-2626 to confirm it is Wamco's staff.
If my schedule changes, is there a penalty if I have to cancel or reschedule my appointment?
No. Simply visit the booking site or call Wamco toll free at 1-833-926-2626 to modify or cancel your appointment at no charge.
Will there be an interruption to my water service?
Yes, your water service will be temporarily interrupted during your appointment. A technician will turn off your water before the work begins and when the work is done, the technician will turn the water back on.
What is my account data being used for?
The data collected by this system is used for billing purposes. It is also being used for the City and property owner/occupant to determine consumption.
In the future: This can be viewed in the customer portal, with notifications to let you know when your set consumption point is reached and notify you of any potential leak detection.
Will my account information and meter data be secure?
Protecting your data is a top priority. Access to account information is restricted to authorized staff who need the data to perform important functions, including improved billing and customer service. The transmitter that sends your meter reading has a unique identifier that is transmitted along with the read data. This identifier is compared electronically to your account record to ensure that the meter reading matches the meter assigned to your account.
Why did I receive a final notice?
This is the final attempt to contact you about having this mandatory work done on your property. You are required to book an appointment with the City's contractor Wamco to gain access to your property to avoid non-compliance fees.
I received a reminder/final notice but I already booked an appointment. What should I do?
If you have already booked your appointment, please disregard the notice as there is a slight crossover period between our mailing team and customers booking appointments.
To ensure you are removed from the mailing list, please contact Utility Billing with your property address and date of replacement.
Does my water meter need additional maintenance?
The City of Kawartha Lakes maintains the water meter at no cost providing you take precautions not to damage it. Water meters typically don't require regular maintenance as they are designed to function for many years without any issues.
More Questions?
If you have any questions, please email Utility Billing.