As the winter season starts to roll in, we'd like to highlight the important municipal services that will take place over the next few months and provide you with a few reminders to help you stay safe in the cold weather.
It's that time of the year
As the snow continues to fall, winter operations are underway to help keep our roads and sidewalks safe. Our equipment operators, running plow trucks applying materials such as sand/salt, as well as our patrol crews, are busy working around the clock to monitor and manage infrastructure throughout the different weather conditions. Help us work together by doing your part such as keeping your vehicles off the roads and your sidewalks clear.

Learn more information by reading our FAQ's on Winter Maintenance.
Snow plow operations
Kawartha Lakes is the second largest geographic municipality in Canada. This means we have over 5400 lane kms to clear during every winter and/or freezing rain event. Please be patient during winter events as our crews can be out as early as 4am to begin maintaining the roads.
We have 71 snow plow routes throughout Kawartha Lakes. The number of plows on duty depends on staff and equipment availability as well as road conditions.
If you see a truck with their snow plow up, that means the plow is currently traveling to their designated route. Often times, trucks need to cross through other roads to reach their destination.
If you have a concern to report regarding a road, please use our online Report It tool and your report will be sent directly to the crew responsible for the area.
Help do you part during the winter season
Pile snow from your driveway and walkways onto your property - not on the road. It is against the Ontario Highway Traffic Act to deposit snow or ice on a roadway without permission from the road authority.
Clear walkways around your property as soon as you can after a snowfall applying sand or salt when icy.
Keep fire hydrants clear and accessible. The extra time it takes to clear the hydrant in the case of an emergency can play a large impact.
On your waste collection day, place bags and bins on your driveway near the edge of the road in a cleared spot. Do not place containers on snowbanks.
During a winter event, please plan your route accordingly if you need to travel during snowy or icy weather. Travel on busier roads and be sure to clear all the snow off your vehicle for visibility and safety measures.
Reminder:
Kawartha Lakes is not responsible for providing salt or sand for public and private use.
Salt and sand can be purchased at your local hardware store.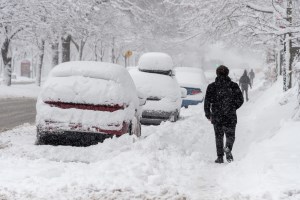 Other things you need to know:
Overnight parking on the street is not permitted between the hours of 2am and 6am between November 1 and April 30. The by-law is in place so our Public Works division can quickly and efficiently clear our roads during the winter season without obstructions.
Monitor the weather and extreme cold alerts by following The Weather Network or on the Government of Canada's website.
If you are planning any activities near frozen bodies of water, please ensure you read our Emergency Services' Ice Safety Tips
Even in the snow there are places to go!
Don't let the winter blues keep you inside this season. Check out what's happening around the municipality with Christmas in Kawartha Lakes.

Christmas in Kawartha Lakes offers enchanting holiday events, lots of boutique shopping, and a variety of dining options to suit every taste. Each of our charming communities offers a one-of-a-kind experience that is unique and memorable. Learn more on our Explore Kawartha Lakes website.
Check out other things to do in the winter, such as public skating or see our online calendar to learn about other community events happening around Kawartha Lakes!