Welcome to the Downtown Parking Strategy project page.
The municipality is undertaking a Downtown Parking Strategy to examine the current and future parking requirements in the downtown areas of Lindsay, Fenelon Falls and Bobcaygeon. As outlined in the Kawartha Lakes Transportation Master Plan, this study will develop solutions to optimize parking in the defined areas.
In the last several years, demand for downtown parking has increased dramatically. In downtown Lindsay, the average rate of use for parking during peak weekday business hours has increased from 61% in 2014 to 81% in 2018.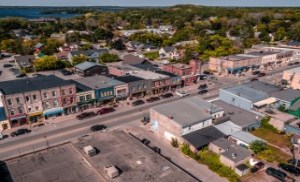 Bobcaygeon and Fenelon Falls have also seen increased pressure on parking resources.
Kawartha Lakes is projected to grow to a population of 100,000 by 2031 and the Strategy will help prepare for this growth.
Kawartha Lakes is looking for public input on expectations and experiences of parking downtown in the current project communities.
Your input will only help us determine further the most effective ways to address parking needs across Kawartha Lakes.
Parking affects everyone in Kawartha Lakes. Whether you're a business owner who needs vacant spots for customers, or a resident who is running errands during a busy Monday morning, parking is large part of the Lindsay downtown experience.
And we want to hear from you!
IBI Group in consultation with Kawartha Lakes staff, have designed two easy to use tools for you to use to let us know what you think about parking downtown.
Have your say on parking downtown!
Take our online survey to help us identify parking needs across Lindsay, Bobcaygeon and Fenelon Falls.
We are looking for your feedback on questions such as:
Parking prices
Signage
Current and future design of lots
Walking distances and pedestrian access
Both the survey and crowdsourcing map will be available until August 31, 2019.
Interested parties are also encouraged to make submissions to the Downtown Parking Strategy by providing them in writing via email to the Project Administrator. Written submissions made prior to August 31, 2019 will be considered by IBI Group and Kawartha Lakes Downtown Parking Strategy Steering Committee. To ensure timely completion of the study, however, the municipality cannot guarantee consideration of written submissions made after August 31, 2019.
Project Lead:

Adam Found, PhD, PLE
Manager of Corporate Assets
Corporate Assets Division
Department of Engineering and Corporate Assets
12 Peel Street, P.O. Box 9000
Lindsay, ON K9V 5R8
Phone: (705) 324-9411 extension 1183
Fax: (705) 324-2982
Email: afound@kawarthalakes.ca