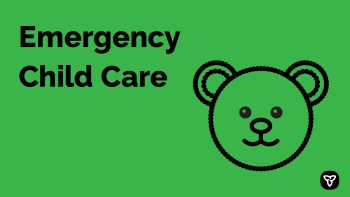 Kawartha Lakes - On Monday, January 3, the Premier announced that schools would remain closed to in-person learning. Students enrolled in publicly-funded schools across the City of Kawartha Lakes and the County of Haliburton are now being engaged in virtual learning.
During the remote learning period, licensed child care for infant, toddler and pre-school children may continue, however licensed centre-based care for school-aged children including before and after school programs will be closed. The province has established a list of essential health care and frontline professions who will be eligible for no-cost Emergency Child Care for school-aged children during this period, as of January 10, 2022.
The Kawartha Lakes Human Services Department is currently working with child care operators, school boards, the Haliburton, Kawartha, Pine Ridge District Health Unit, and the province to make ECC spaces available.
Eligibility:
Workers Eligible for Emergency Child Care
Due to the limited number of spaces, we will be prioritizing the following applicants on a first-come, first-serve basis:
Regulated and unregulated staff in health care providing in person care (including hospital and acute care staff, medical first responders, pharmacists and pharmacy assistants and community health care workers);
First responders – police, fire and ambulance;
Workers who directly support manufacturing of personal protective equipment (PPE), vaccines and other medical technologies and supplies; and,
Child Care Staff.
The remaining spaces will be offered to applicants that fall into the provincially approved eligibility list on a first-come, first-serve basis until all spaces have been filled and then a waitlist will be started.
How to Apply to ECC:
All Applicants are required to complete an application regardless of previous ECC approval:
To apply for emergency child care, contact Children's Services at 705-324-9870, toll free at 1-877-324-9870 and press "3" or at CKLhumanservices@kawarthalakes.ca. Please leave a phone number where you can be reached for staff to follow-up.
Staying Connected
The municipality continues to post updates to www.kawarthalakes.ca/COVID19. Visit the webpage for the latest updates on closures, meeting cancellations and changes to services.
-30-