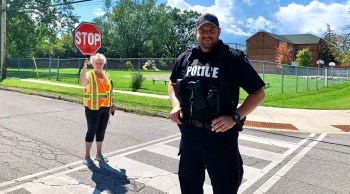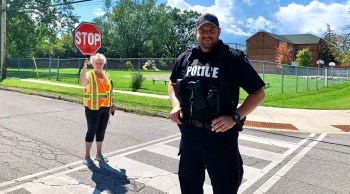 Kawartha Lakes – It's that time of year again! Students are returning to schools across the municipality. With the annual increase in school related traffic, it's important that both motorists and pedestrians remember to slow down and pay attention to their surroundings during their daily commute.
To help ensure the safety of our crossing guards, students and other pedestrians, motorists are reminded to take special care while driving and to follow these basic back to school safety practices:
Reduce speed in school zones
When in school areas, be observant of children and be ready to stop at all times
Stop when a crossing guard holds up a stop paddle
Be patient and wait for children to complete their crossing before proceeding
Be mindful of children walking around your vehicle and other vehicles
Start your commute earlier if you're on a bus route
Never text while driving
Kawartha Lakes Police Services (KLPS) Chief of Police, Mark Mitchell, says that back to school safety is everyone's responsibility.
"The start of school is an exciting time. Young students are learning or getting reacquainted to school bus protocols and motorists are getting used to seeing school buses on our roads again. Safety around school zones and school buses is everyone's responsibility. Let's all do our part to make the start of the school year successful and safe. Give yourself extra time on your morning commute if you are travelling on a bus route. If you have school age children, make sure they follow the directions of teachers and bus drivers. Have a great school year!" said Chief Mitchell.
Update to School Bus lights

The provincial government introduced an updated amber to red lighting standard on July 1, 2022. All school buses manufactured after January 1, 2005 are required to operate using the new Eight Lamp Amber to Red Warning System.
The new system uses flashing coloured lamps to signal when a school bus is slowing and when it is stopped to pick-up or drop off passengers in two stages:
Alternating flashing amber lights are activated to signal the bus is slowing down.
Alternating flashing red lights are activated to signal the bus has stopped.
Whether you are behind or approaching a bus, motorists are encouraged to slow down and prepare to stop when you see the alternating amber lights. According to Tim Tatchell, Detachment Commander for the City of Kawartha Lakes OPP, it is the driver's duty to slow down and prepare to stop once presented with the amber lights.
Apart from the above, the regular rules apply when it comes to stopping for school buses:
You must stop whether you are behind or approaching the bus.
If you are on a road with a median, only vehicles coming from behind the bus must stop. A median is a physical barrier such as a raised, lowered, earth or paved strip constructed to separate traffic travelling in different directions. Vehicles cannot cross over a median strip. If traffic is separated by a painted yellow line, both directions must stop for the bus.
If you are coming from behind the bus, stop at least 20 meters away.
Do not go until the bus moves, the lights have stopped flashing and/or the stop arm is no longer activated.
Remember that all school buses must stop at railway crossings; you should always be prepared to stop when they stop.
Please remember that it is dangerous and illegal to fail to stop for a stopped school bus that has its red lights and/or stop arm activated. As a reminder to the public, OPP patrols will be focused on enforcing school bus safety for the first few weeks of school.
"As the summer comes to a close and we approach the new school year, it is important that all drivers start to prepare for the increase of school buses on our highways. Every year, members of the City of Kawartha Lakes OPP respond to numerous complaints and close calls related to motorists failing to stop for a school bus. Vehicle owners can be held responsible for the actions of the driver, and the fines for failing to come to a complete stop for a school bus range from $400 to $1000 for a first offence. We ask that each of you do your part to ensure the safety of our students by reducing speeds in school zones and being alert for stopped school buses. In turn, we will do our part by increasing our proactive patrols to monitor driver behaviour, with the hope that all students have a safe and successful school year," said Detachment Commander Tatchell.
Best practice for getting to and on the school bus:
Arrive at the bus stop at least five minutes before the scheduled pick up time.
Stay on the sidewalk, well away from the roadway and stay back until the bus has come to a full stop and the door opens.
If your child needs to cross the street, teach them to look to the left, then to the right, and to the left once more before crossing the street.
Best practice for dropping off and picking up kids

Parents and guardians must respect their child's school safety measures for dropping off and picking up their children at school. Please pay close attention to the rules of the drop off area. Remember to follow posted speed limits and to use designated drop-off and pick-up areas.
Prevention is the key to safety. With education and awareness, all children should be able to get safely to and from school. Please take the time to have a talk with your children before they return to school to ensure they remember the "rules of the road" for travelling to school safely.
We wish all of our returning students a safe and happy school year.
---
Photo 1 caption: Pat Richardson, Kawartha Lakes crossing guard at her post with new KLPS Community Services Officer, Kevin Walden.
Photo 2 caption: Images of the front and back of a school bus indicating where to look for the new amber lights warning system.
- 30 -