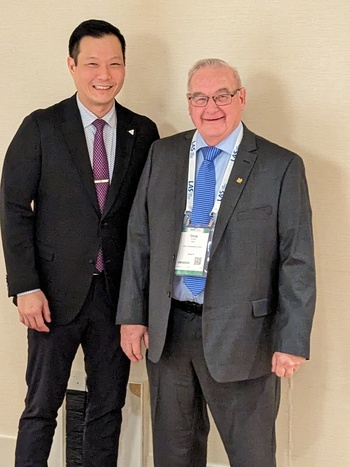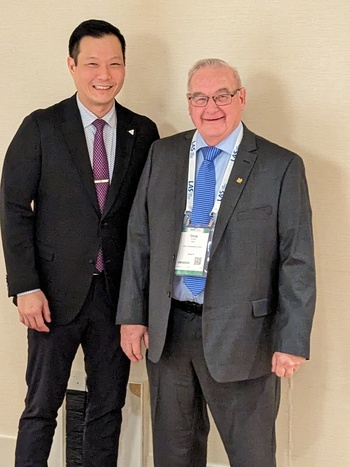 Kawartha Lakes – The 2023 Rural Ontario Municipal Association (ROMA) Conference, held in Toronto from January 22 to 24, drew a record of more than 1,500 participants from across rural Ontario. Kawartha Lakes was represented by Mayor Elmslie and Councillors Joyce, Perry and Smeaton.

Kawartha Lakes led a delegation with Associate Minister Cho of the Ministry of Transportation. The agenda focused on two requests:
The City requested Go Transit service between Lindsay and the Oshawa GO Station for rush hour, off peak and evenings daily. Additional connections to and from the City of Peterborough to meet community demand were also recommended. The expense of implementing a basic GO Transit service is a minimal cost with many benefits such as reducing the carbon footprint, relieving traffic congestion and supporting residents, students, visitors and workers in Kawartha Lakes with a reliable and affordable transportation option.
To enable residents, visitors and heavy truck traffic to more easily travel into and throughout Kawartha Lakes, the City requested that the Province advance their capital plans for the widening of various sections of Highway 35 between Highways 7 and 115, and northward from Lindsay, where appropriate, to Coboconk. This is the only major north-south transportation corridor connecting through the municipality to Highways 401, 407, and Highway 7. This request dates back to a ROMA 2019 delegation when commitments were made to expand Highway 35 to four lanes between Colborne Street and Thunder Bridge.
"The meeting was productive and Minister Cho was receptive to both of our topics. We thanked his staff for the work that is progressing well in Omemee through the Connecting Links program and on Highway 35 at Colborne St. We shared the message that it's time for the ministry to invest in the expansion Go Transit service in Kawartha Lakes, and the expansion of Highway 35 in the south and north areas of our municipality. We're asking for a focus on the areas that are due for four-laning in order to facilitate growth and safe traffic flow," commented Mayor Elmslie.
Also during the conference, Mayor Elmslie joined Eastern Ontario colleagues (EOWC) through a multi-minister delegation to advocate for provincial support and funding to accelerate the construction of affordable housing. The EOWC solution would bring the private, non-profit and public sectors together to build affordable community housing to address the municipal housing wait lists. The investment could also incent up to three times the number of attainable market rate units across the region.
The conference reflected ROMA's advocacy work on priorities such as housing and economic growth. The event featured dozens of speakers, sessions and workshops across a broad range of municipal responsibilities.

About ROMA
ROMA takes pride in promoting, supporting and enhancing strong and effective rural governments. About 270 of Ontario's 444 municipalities have populations of less than 10,000, while scores more are rural in character. The rural arm of the Association of Municipalities of Ontario, ROMA advocates for policies and programs that will help build thriving rural Ontario communities.
Photo caption: Left to right, Stan Cho, Associate Minister of Transportation and Mayor Doug Elmslie at ROMA Conference 2023