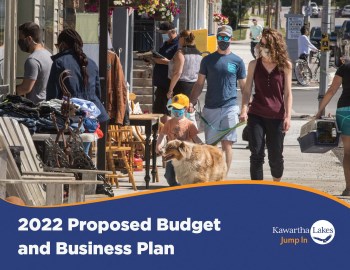 Kawartha Lakes - Council will hold a Special Council meeting on Thursday November 18 at 6:30pm. The purpose of the meeting is to invite members of the public to learn more about the Proposed 2022 Budget including major projects and service levels, pressures on municipal finances and implications for residents.
Jennifer Stover, Director of Corporate Services, will provide an overview of the various budgets including: Capital, Operating, Water-Wastewater and Special Projects.

Ways to be informed and engaged on the 2022 Budget
Make a deputation
Those wishing to make a deputation to Council at the meeting may do so by filling out a Deputation Request Form on the municipal website. Requests for deputations must be made prior to Tuesday November 16 at 12pm. For assistance by phone, please contact: 705-324-9411 extension 1266 or 1342. All deputations will be made electronically via Zoom.
Submit correspondence
Please visit the website for more information on submitting correspondence to Council.
View the meeting
Everyone is welcome to view the meeting on the City's YouTube channel live. A recording will be available the following day. Subscribe to the channel to receive updates as new meetings are added.
Read a copy of the Proposed 2022 Budget and Business Plan
Please visit the Budget page of the website at www.kawarthalakes.ca/budget.
---
Staying Connected
For updates by email, subscribe to receive a custom feed of news and events.
Connect with us on Twitter, Facebook, YouTube and LinkedIn.
Download our mobile app Pingstreet for Apple or Android to get news, events and notifications on your phone.
- 30 -