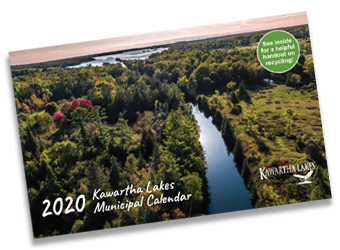 Pick up your 2020 Municipal Calendar next week

Kawartha Lakes - The 2020 Municipal Calendars are currently being delivered across the municipality and will be available to pick up for free during the week of December 23. Stay up to date on curbside collection schedules, tips and tricks to help manage your waste and did you know facts about waste and recycling in Kawartha Lakes.
For those wondering about January's collection, please see below for the full schedule.




Holiday collection schedule
Your curbside collection will be moved forward during days of the week where a holiday closure occurs:
Curbside collection on December 25 will be collected on December 26
Curbside collection on December 26 will be collected on December 27
Curbside collection on January 1 will be collected on January 2
Curbside collection on January 2 will be collected on January 3
New this year
To help our residents be part of the solution and not the pollution, we've included a helpful handout in this year's calendar. The handout, which can be gently removed from the middle, is a great tool to place on the fridge or near your recycling to help sort out "what goes where". The document will also be made available online for download.

The calendar also has municipal and community events posted throughout the year, showcasing fun and active things to do across all 12 months of the year. Your event could be included in our calendar next year! Stay tuned for more details in 2020. You can also submit your event to our online calendar at www.kawarthalakes.ca/submitevent.

Where do I pick up my calendar?
Calendars are available for pick up at City Hall, Municipal Service Centres, Kawartha Lakes Libraries and select retailer locations across the municipality. For a full list of distribution locations, visit our website.

- 30 -