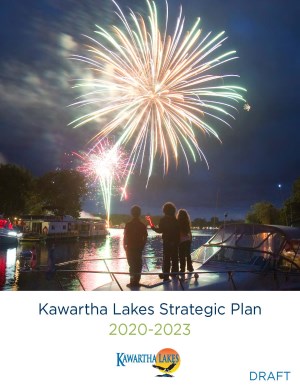 Kawartha Lakes – At the January 14 Committee of the Whole meeting, the new Strategic Plan for 2020-2023 was brought forward to Council.
"I'm proud that the development of our Strategic Plan has been an inclusive process. We've had expanded consultation with members of the public, partners, staff and Council. We're pleased to have completed this in-house, under the leadership of Brenda Stonehouse, Strategy and Performance Specialist," commented Ron Taylor, CAO.
The vision for the future is: Thriving and growing communities within a healthy and natural environment. This vision speaks to the ongoing goal of balancing growth and prosperity with protecting and enhancing our environment.
The mission explains how we achieve our vision: To deliver the highest standard of municipal services while creating a healthy and sustainable future for all Kawartha Lakes residents and businesses.
This plan has four guiding principles, or lenses through which all actions are evaluated:
Fiscally Responsible
Open and Transparent
Partner and Collaborate
Service Excellence
Values:
Accountability
Respect
Teamwork
Strategic Priorities, each of which have several goals and progress indicators:
A Vibrant and Growing Economy
An Exceptional Quality of Life
A Healthy Environment
Good Government
Mayor Letham commented, "As local government, we are constantly challenged with balancing our environmental, social and economic responsibilities. In this new Strategic Plan, we have a blueprint for the next four years and we have set out ambitious goals for Kawartha Lakes. Next we'll develop action plans to achieve those goals alongside Advisory Committees, agencies, partners and staff. As always, Council will be looking to achieve these goals while ensuring our community remains an affordable place for residents of all ages. I look forward to charting the course with everyone involved."
The Plan will come to Council on January 28 for final consideration. Next steps following adoption by Council include assigning detailed action plans, success measures and a tracking system throughout 2020. Progress will be reported on throughout the life of the plan.
For a copy of the plan, visit our website or Jump In, Kawartha Lakes.
- 30 -