"Our Stories" - Kawartha Lakes Intangible Culture Experience
Mapping our stories enables us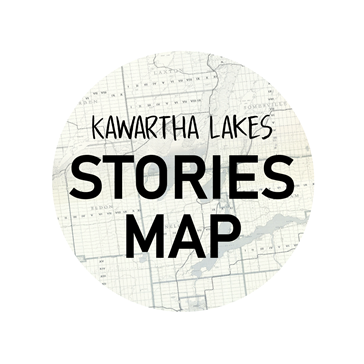 to preserve stories from our past, to share memories passed down through our families, and to tell others about the traditions and activities that are unique to Kawartha Lakes. Stories are an expression of our intangible culture - the beliefs, traditions and customs that shape our behaviors, and that influence the way that we see the world, the objects that we craft and the cities that we build.
Mapping "Our Stories" helps us discover our heritage and aspects of local culture that may not be apparent, that may not be recorded in textbooks or that may be at risk of being forgotten. It can also be a tool that helps us to see and experience our diversity. We can present multiple stories about a place, an event or situation that may have been interpreted differently by others. Neither account is necessarily right or wrong - just another perspective.
The best cultural tourism experiences draw upon the unique local cultural heritage of a particular place and offer visitors the chance to hear the stories, to visit the places and experience the cultural characteristics that make a community unique. Mapping intangible culture through the Stories Map can also identify cultural assets and characteristics that our community and visitors value, and can be source of inspiration for new businesses that help to expand our local cultural and tourism economy.
View the Kawartha Lakes Stories Map
Kawartha Lakes Moments and Memories - Local Stories Competition
This is your chance to contribute to anecdotes about life in Kawartha Lakes by adding your story to the Kawartha Lakes Stories Map. Until Monday, October 15, 2018 each story added to the Kawartha Lakes Stories Map will be entered in the competition and have a chance to win some great prizes! Full competition details can be found below.
How to Enter
Check out existing stories on the Kawartha Lakes Stories Map. Add a story capturing your moment or memory to the collection by clicking "Add Your Story" on the map. Stories can also be entered in the competition through Instagram by tagging @kawarthalakesstories and using the hashtag #klmoments or #klmemories in your post.
Stories should be based on one of the five competition categories and should be a maximum of 450 words. If you have a photograph to accompany the story, please submit it as well.
Competition Categories
Everyday Life
Part of your everyday life may be something that others have never experienced. Tell us about the unique activities, games or pets that you grew up with and were important parts of your everyday life here in the City of Kawartha Lakes.
It Happened Here!
Tell us about the events that changed the course of personal and community history in the City of Kawartha Lakes.
Beliefs and Traditions
Do you have any special family traditions tied to the City of Kawartha Lakes? We want to hear them. Tell us about the beliefs and traditions of your community.
Origins of Our Communities
The communities in Kawartha Lakes are built on a proud heritage. Dive deep into their history and tell us about the origins of our communities.
Special Places
Are there any special places in the City of Kawartha Lakes that hold special meaning or significance for you? Tell us about these special places and the moments and memories you have experienced there.
Prize Details
Each story submitted within the competition period will receive a ballot for a random draw. A draw will be held each month from June to October. Entries must be received by the 15th day of each month to be eligible for the draw that month. Prizes include:
Thank you to to all of the prize donors who have supported the Moments and Memories contest!